Premium Statesboro Lawn Care
When it comes to professional lawn care for Statesboro and surrounding areas, Ninja Lawns provides so much more than simply grass cutting services. Yes, we do offer our premium turf care for the Statesboro area (and surrounding areas, like Brooklet, Register, etc.) … but, that's just getting started. It might be something simple, like feeling of the grass to get a sense of the general turf health. Maybe your foundation plants could use a bit more TLC to help them thrive. Our focus is upon your landscape… not just on our schedule.
We serve fewer clients… extremely well.
We have been very encouraged by the awesome families we've been able to serve with lawn care and interact with… while also being challenged by the times we didn't "get it right."  We are challenged to reach further & to have a greater impact… as we are encouraged with the possibilities which abound in and around the Statesboro area.
Excellence in Lawn Maintenance
Ninja Lawns is a leading provider of premium lawn maintenance services in and around the Statesboro, Georgia area. While that may seem simplistic, we are very serious about what that means. We are serious about serving the needs of our clients, with an unmatched spirit of excellence. Our team members care, not simply about doing things right… but about doing the correct things right.
Your team of professionals from Ninja Lawns will provide you with excellent service, in a personal and friendly manner, with a broad range of professional solutions to your lawn care and landscape needs. In the Statesboro area? We would love to serve you and your family by helping bring your unique landscape ideas to life!
"Ninja Lawns came highly recommended when my husband and I moved to Statesboro in 2019. We know many landscape companies from our past experiences that try to present themselves as experts and wind up not really knowing that much more than how to mow a lawn.
With Ninja Lawns you get a team of highly reliable and very knowledgeable workers that will get you the answers and the results you are looking for.
We are getting older and less able to do all that is required to maintain a piece of property.  We count on them and they come through EVERY TIME!
Go with Ninja Lawns… You will be grateful you do!"
Professional Landscape Management
Not just mowing the turfgrass… Caring for the entire landscape. 
Year-Round Service Plans
Your property is cared for by our professional team, on a year-round basis. We bring the right equipment & experience to serve your family with excellence.
Turf Applications & Treatments
Some things that grow on your property are welcome to stay and some things need to go. We help the desired plants thrive & try to eliminate the others.
Landscape Design & Install
When you want to change things up or start with a clean slate… we can help you visualize your landscape ideas & then work to bring them to life.
If you need lawn care services in the Statesboro, Georgia area, we would love to meet you and discuss ideas for your property. If we can count your family as one of our clients, we would love to invest our efforts in the place you call "home" with your family & friends… to make a difference in your life. Almost anyone can cut grass, install plants, or help you with pine straw or mulch… we seek to Master the Art of Lawn Care at the place you spend time with your family.
When considering options for premium quality & careful lawn care in Statesboro, please consider Ninja Lawns. We will seek to understand the unique needs of your landscape and we'll take the time to actually listen to you… now that's refreshing!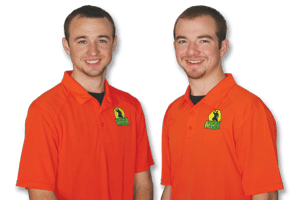 Choices for Lawn Care in Statesboro
It's no secret… There's a large number of folks who have equipment and 'do lawn work' in the Statesboro area and there is no doubt many of these providers will do a wonderful job. Providers will vary in what they actually bring to the marketplace. Hopefully, you can learn more about some of the differences here on our website. Different is not bad, it's just different — unless… what is different, is bad 😉

"The job y'all did on my yard was just perfect! So proud of the way it looks … Thank you so much!"
"I just wanted to say how impressed I was with your professionalism and attentiveness."
"Hey guys, I love the way my yard looks, and more importantly… my wife is happy. Thank you very much!"
"It's like looking at a whole new house!"